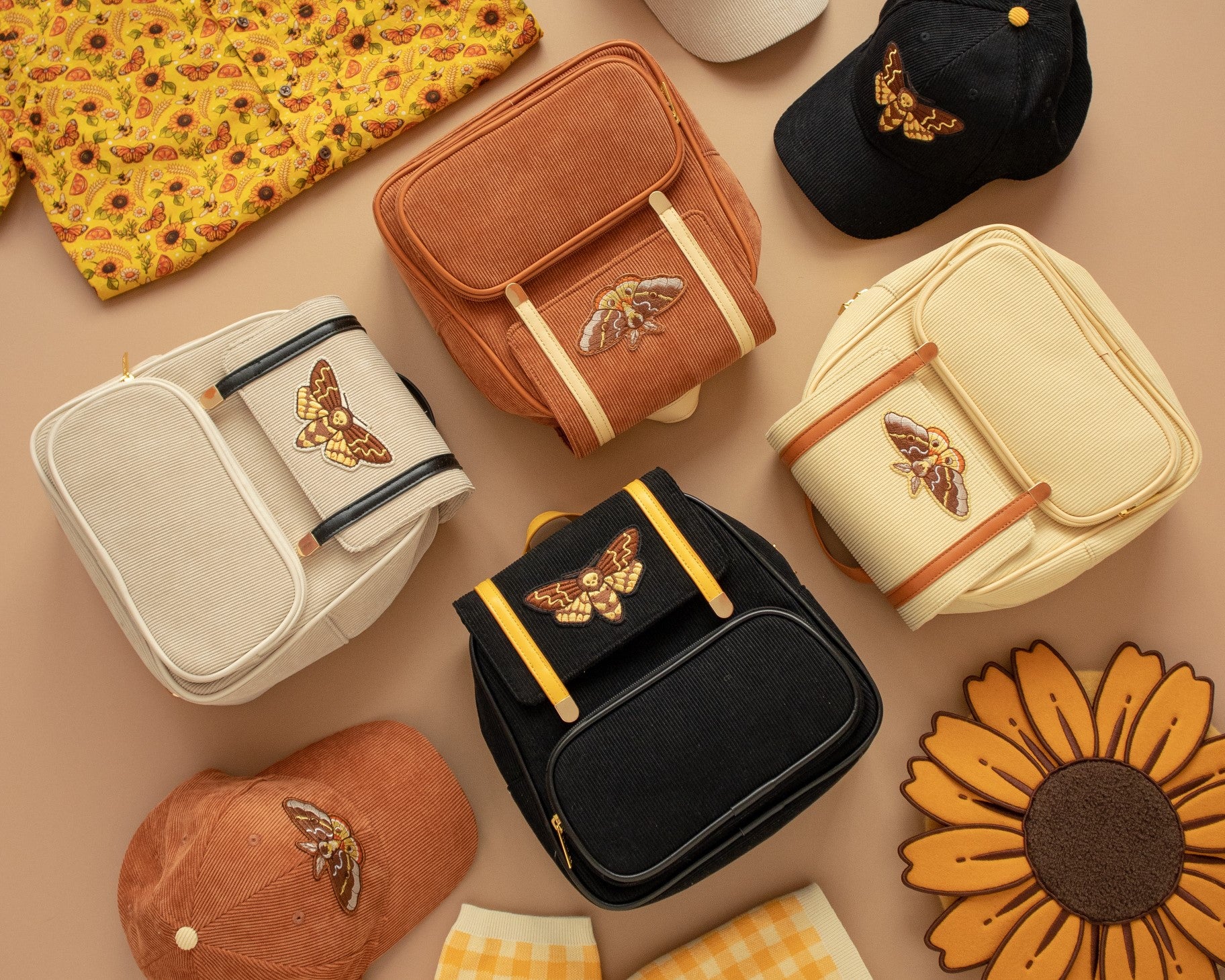 Update #6: Corduroy Bags on the Move!
Hello friends!
We're past the expected halfway point now and we have a pleasant surprise for all you Corduroy Bag fans!
All Corduroy Bags and Moth Patches are in transit to us via sea freight as of last week. Our manufacturer decided to ship the completed Corduroy Bags ahead of the Shaped Bags that are still in production in order to save space in their factory. The expected transit time is 45-60 days so we're expecting to see the shipment by the end of September.
Once product arrives at the warehouse it will prepare to be sorted and stored, then fulfillment can begin. Preparation should take a little less than a week if the warehouse isn't busy with work orders from other clients or a potential, date to-be-announced Carmico line. 👀
In the last blog, we mentioned that we planned to ship all items in the pre-order together because we expected them all to arrive together. Since we'll have some items available earlier than expected, we discussed options with our warehouse team. We decided that it would be best for us to ship all orders that do not contain Shaped Bags before the Shaped Bags arrive. It lightens the workload for them, keeps space open in the warehouse, and distributes incurred shipping costs.
So all y'all who ordered Corduroy Bags may be getting them sooner than we all expected! We will send out a reminder to update your address one week before fulfillment begins with a deadline for last-minute address updates. If you do not update your address before the cut-off, we cannot change your address.
But—as they say—the best things come for those who wait. Printing is complete for Shaped Bags and now the factory is moving on to assembly. The manufacturer has given us a ballpark of mid to late August before Shaped Bags are on a boat. All the little moth babies are coming together!
As with this update and the one before it, we have a scheduled message for the beginning of September and will send more detailed updates if any production or shipping delays occur.
A few friendly reminders
Production is expected to be completed by the end of August and will take time to arrive at our warehouse for fulfillment in Q4. You can view the estimated timeline in our pre-order launch blog. As of this update (August), Corduroy Bags may ship earlier than expected.
Orders can no longer be cancelled
We're past the point of no return now. Hope you like your bag! xoxo
Address updates will be accepted until fulfillment begins
We'll send you reminders before fulfillment begins but it's always good to update your address sooner rather than later.
We'll be sending a reminder for people without Shaped Bags to update their addresses. There will be additional time for Shaped Bag order address changes with another notification going out once we're ready to fulfill Shaped Bag orders.
If you have any questions, don't hesitate to reach out to hello@carmico.ca or join our Discord server and post in the #questions channel.
Until next time!
The CarmiCrew