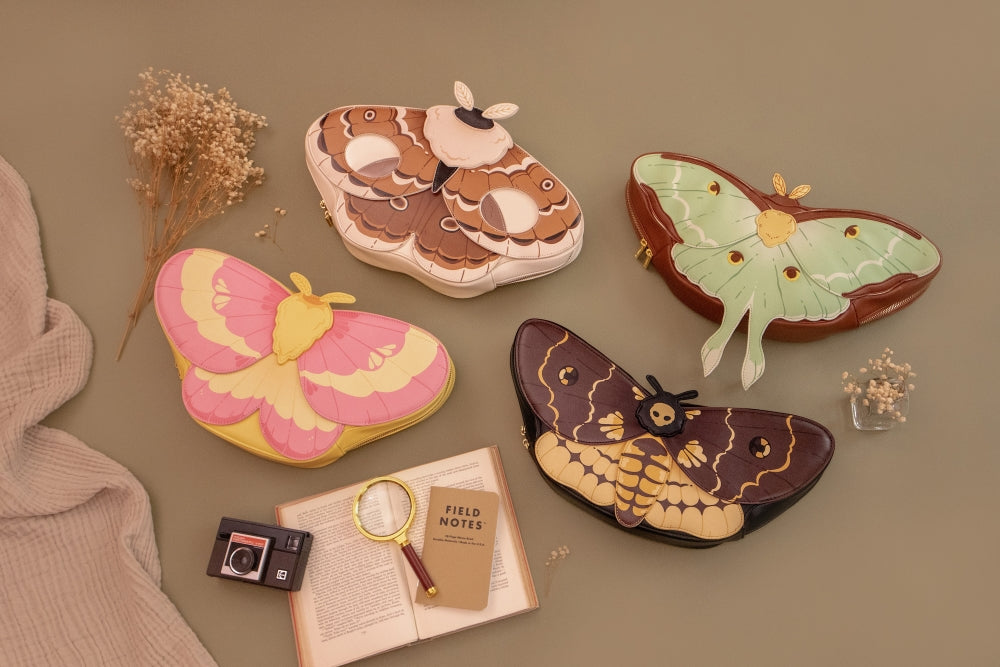 Shaped and Everyday Moth Bag 2023 | Launch
Well howdy, y'all!
A warm welcome to the long-time fans and all of the new ones (thanks for finally working your magic, TikTok)!
We really don't know how this pre-order will go—such is the nature of virality these days—but we'll do our best to set expectations and outline our contingency plans if the volume of pre-orders is greater than what we're used to.
But first things first—what you came for: the moth bags!
Shaped Moth Bags
Our shaped moth bags are made of soft, vegan leather (PU). You can wear them in three ways: as a backpack, as a shoulder or crossbody bag, or as a fanny pack.
Buckles, strap loops, and zipper pulls are made of gold-anodized stainless steel with a double zipper for easy access from any part of the bag.
The main compartment contains a padded pouch for separating special items like electronics and an in-lining zippable interior pocket.
Specs
| Style | Dimensions (IN) | Most Usable Dimensions (IN) |
| --- | --- | --- |
| Death's Head Moth | 16 x 9 x 2½ | 8 x 7 x 2 |
| Emperor Moth | 16 x 10 x 2½ | 8 x 8 x 2 |
| Luna Moth | 16 x 8 x 2½ | 8 x 6 x 2 |
| Rosy Maple Moth | 16 x 10 x 2½ | 8 x 8 x 2 |

Everyday Moth Backpack
As with the shaped bags, the buckles, strap loops, and zipper pulls are made of gold-anodized stainless steel with a double zipper for easy access from any part of the bag.
The main compartment (10 x 9 x 5") contains a padded pouch for separating special items like electronics and an in-lining zippable interior pocket. Also features a front pocket (8 x 4 x ¾"). 
Specs
| Style | Dimensions (IN) | Most Usable Dimensions (IN) |
| --- | --- | --- |
| Death's Head Moth | 10 x 9 x 5 | 9 x 8 x 3½ + 8 x 4 x ¾ |
| Emperor Moth | 10 x 9 x 5 | 9 x 8 x 3½ + 8 x 4 x ¾ |
| Luna Moth | 10 x 9 x 5 | 9 x 8 x 3½ + 8 x 4 x ¾ |
| Rosy Maple Moth | 10 x 9 x 5 | 9 x 8 x 3½ + 8 x 4 x ¾ |
Moth Patches
Iron-on moth patches in four styles: Death's Head, Emperor, Luna, & Rosy Maple.
You can iron or sew them onto hats, jackets, and just about anything you can think of. Buy them separately here! 
A quick tl;dr because we got a little wordy 
The precautions mentioned in this blog are intended to highlight potential issues and are written here to provide transparency regarding worst-case scenarios. Our past pre-orders have been more or less hiccup-free but it's all best said than unsaid. 😊
The Rules
This is a pre-order, the products must be manufactured before we can fulfill them
Delivery is expected in Q4
Expect delays and don't buy with a specific delivery date in mind (i.e. birthdays, Christmas gifts, etc.)
No refunds or cancellations
International customers must be aware of applicable import charges
If you deny delivery you are not entitled to a refund of your shipping fee
PayPal is disabled due to PayPal policy restrictions; we wish it were different
You can place a single order for you and your friends to save on shipping but we will not retroactively combine multiple orders
You accept responsibility for deliveries made to an old address if you fail to update your address before fulfillment
Our experience and contingency plans
This is our sixth pre-order
We've worked out a lot of the kinks but there is always room for error and unforeseen circumstances
Production timelines could get pushed due to recent social media virality
You will be updated regarding all major timeline changes (read on to learn more)
We may need to ship in batches and will let you know more about how that works once we get all our numbers together
Any unforeseen circumstances will be communicated via a blog post, email, and Discord channel updates
Timeline
All timelines are subject to change for reasons out of our control. The outline below includes estimates only.
Pre-order live - February 24th - March 10th
Production - 3-4 months; early Q3
Ship by sea - 1-2 months; late Q3
Fulfillment prep - 1-2 weeks; late Q3
Fulfillment - 1-2 weeks; early Q4
Pre-order complete - Early to mid Q4
About pre-ordering from Carmico
We're so glad you're here to help fund our silly little dreams. We reserve pre-orders as a way to fund financially risky projects so there are a few caveats to the typical Carmico experience.
Pre-order rules and guidelines
No refunds or cancellations
We will do our best to accommodate extraneous circumstances but in general, we do not allow refunds or cancellations on pre-orders. Pre-orders help us to fund big projects and if we started issuing refunds to everybody, it would defeat the purpose of the pre-order and put us under immense financial strain. For the health of our business, we allow refunds for pre-orders via store credit only. Some items may be exchanged subject to our discretion.

We take defective items seriously. If your item arrives defective or damaged, please contact us for a resolution.
International shipping
If your order is being shipped to an address outside of Canada and the US, you will be required to pay any import fees, customs, taxes, and any number of other shipping and import charges. Understand the potential additional charges before purchasing. You can find them on your local government's website and some logistics companies provide blogs and other resources detailing import charges to certain countries.
We have had some issues with international customers being overcharged for customs. If you suspect an overcharge, email us and attach your customs invoice so we can investigate. 
Denied or failed delivery
For whatever reason, you may deny delivery or the courier may fail to deliver. If the item is returned to us, you may be entitled to a refund on the products but never the shipping cost.
If your order has failed to be delivered due to an incomplete or incorrect address, we'll happily ship the order again but will need to bill you for an additional shipping charge to cover the cost of the new shipment.
Replacements for missed deliveries are subject to availability at the time of inquiry.
You understand this is a pre-order and we are not accountable for late delivery
It needs to be said. Some people don't realize what pre-orders are or don't realize that they are pre-ordering, instead, thinking that this is an in-stock order. It's not. Delivery will be months from now, not days to weeks.
There are so many things that could happen that may delay delivery and most of them are out of our control. If you pre-order an item in hopes of gifting it as a Christmas present it might come in on time. If it doesn't, that's on you!
You've been warned. 💀
PayPal is disabled for pre-orders
We wish we could use them because they provide securities for wary customers. Unfortunately, PayPal explicitly prohibits using their service for pre-sales. 
You can read about it here.
No combined orders
Combining orders is not as easy as it should be. In fact, it's quite hard and can cause delivery and fulfillment errors. To avoid these errors, we will not combine orders. This includes regular orders made outside of the pre-order period.
Address changes
You can update your address at any time by reaching out to us at hello@carmico.ca. Do not update your address via your profile. Address updates must be done in a separate system that isn't automatically updated through changes made via your account.
We will send a reminder to update your address in the month leading up to fulfillment.
What to expect from the campaign
What have we done in the past?
Carmico has now successfully fulfilled five pre-orders since 2018. Selina, our founder, started alone with a small Kickstarter campaign for our Comet Caps back in the summer of 2019. The year after, COVID struck and Selina started a Kickstarter for the accompanying Star Bags and Moon Wallets in the summer of 2020. The success of which prompted Carmico to form a team.
Since then, we've launched the other three of our pre-orders through our website: Stargazer Sweaters, Tulip Bags, and a second round of Stargazer Sweaters and Tulip Mini Cardigans.
We haven't been quite as diligent about updates in past pre-orders and we want to change that going forward. With all of the things ongoing with Carmico, it's hard to keep up with things like pre-order updates. Sometimes we get updates and we have to parse the ones that actually matter to customers and ones that don't. Sometimes we get that wrong and sometimes we just forget!
We won't be forgetting this time. We've set reminders and events to send updates at each stage of the supply chain and reminders to send updates once per month regardless of whether there are any status updates so that you at least know that we're still here and haven't forgotten about you.
Comparison to Kickstarter and other crowdfunding campaigns
There's kind of an unwritten expectation in the pre-order community that updates should be posted but the extents of which vary from industry to industry. There's no standard; every campaign is unique and some companies send too many updates where others don't send enough.
For our updates, we'll be focusing on major supply chain stages. More about those stages in a bit.
A note about potential success and what it means for production
At the time this blog was written, our TikTok video had steadily been gaining traction and the engagement wasn't slowing down. By the time the campaign begins and ends, we might have made thousands more impressions and a portion of those impressions may convert to customers (yay)! It's impossible to quantify conversions based on reach alone but in general, the more people that see and are interested in the pre-order, the more people will pre-order.
So why are you telling us this? What does this mean for the pre-order?
This could have a dramatic effect on the timeline of the pre-order. Depending on how many pre-orders we get, we may have to complete orders in batches. This will mean some customers will get their orders before others.
This isn't set in stone and we may have better options for handling large order volumes, but it's a possibility. We believe in transparency and setting appropriate expectations. So there it is!
You can read below about updates you can expect and a general timeline. The timeline is subject to change based on many factors out of our control.
Expected Updates
The times listed here are estimates and are subject to change based on order volumes, delays, and other unforeseeable issues. Our previous pre-order timeline estimates have all been accurate to within one month of the estimate, but it's not to say we couldn't be wrong this time!
Launch!
February 24th
(This blog.)
Pre-ordering ending
March 7th
We'll post another update 3 days before the end of the pre-order. It will be short and will mostly be a reminder that the pre-order is ending.
Pre-order over
March 10th
Once the pre-order is over, we'll post a blog post about the success of the pre-order and whether the success changes our original plans for production. If the pre-order blows up, we'll describe our contingency plans here.
Production
3-4 months; early Q3
As mentioned earlier, there won't be much to update in terms of production. We'll send updates when the Everyday Bags are complete and when the Shaped Bags are complete if they're completed separately. We'll also share any production-related delays with information about how the delays may affect your order.
Shipments
1-2 months; late Q3
If we end up batching production and shipments, we'll send an update for each shipment and any information about the shipment that might indicate an update for your order (i.e. that items in your order are on their way to us).
Updates will be posted when a shipment is:
Sent
Landed at the port in BC, Canada
On the truck from BC to Ontario
Arrived at our warehouse in Mississauga
Each update will include an estimated shipping time.
As we get closer to beginning fulfillment, we will send an update requesting any address changes to be made as soon as possible or to reach out to our customer service team if you suspect an upcoming address change may interfere with the delivery of your order.
Prep
1-2 weeks; late Q3
Once a shipment is received at our shipping partner's warehouse, it needs to be unloaded, counted, QA'd, organized, and a receipt must be made to indicate any discrepancies in order quantities and enclosed packing lists. Depending on the size of the shipment, this can take days to weeks.
While the warehouse team is preparing to begin fulfillment, we will send a last call for address changes 1 week before we begin fulfillment.
Fulfillment
1-2 weeks; early Q4
Our warehouse team will begin shipping orders. Address changes may be requested after fulfillment has begun but the change may not be possible. If your order has already been picked and shipped (if a label has been printed, even if it hasn't been picked up by the carrier yet) we cannot change your address. Yes, it is still in our warehouse. No, it is not accessible. It's likely buried somewhere amongst hundreds to thousands of other orders and would take hours to locate. It's your responsibility to update your address before fulfillment begins and to perform any processes required to reroute your package if it is already in transit. You may reach out to us for recommendations and general consultation but we are not responsible if you don't update your address in time.
Any substantial fulfillment-related delays will warrant detailed updates on an as-needed basis.
Fulfillment Ends
Early to mid Q4
The campaign will officially end! We'll send a final thank you for the support in funding the campaign. We'll also remind you to reach out to us regarding any issues you suspect with your order. At this point, every customer will have received shipping information and should be confident that their package is arriving to the correct destination. This will be the best time for you to clear up any potential issues with your package.
Unexpected Updates
We love pre-orders but they can be tricky!
With in-stock launches, we're more or less worry-free because there are no unknown variables; everything is accounted for.
With pre-orders, anything could happen. We could have another global pandemic disrupting entire supply chains, war(s) could start or escalate, severing all ties to overseas manufacturers, or pigs could fly causing air transit disasters…
It would be super handy to be able to see all the potential setbacks but we just can't possibly know. We will post updates about any major issues that may affect the delivery of your order and include information regarding any changes to the current plan.
You are always welcome to send us an email with concerns about the pre-order. 
Final Words
To all of you, from the casual onlookers to the splurgers, thank you for considering Carmico as a brand you can trust. Your ongoing support is beyond appreciated. You've helped Selina realize her dreams as an artist and, vicariously, the livelihood of our small yet mighty team of four.
We can't wait to spend more time with you! We'll be launching a community Discord where we'll share pre-order updates as well so stay tuned if that's something you're interested in.
We announce new features like the community Discord, new products and launches, and other cool things to our email subscribers. If you missed the pop-up to subscribe, you can open it again by clicking the button at the bottom right. We're not spammy and you can tailor your email preferences so you only get content you care about. 💌
Thanks for reading!
- The Carmicrew