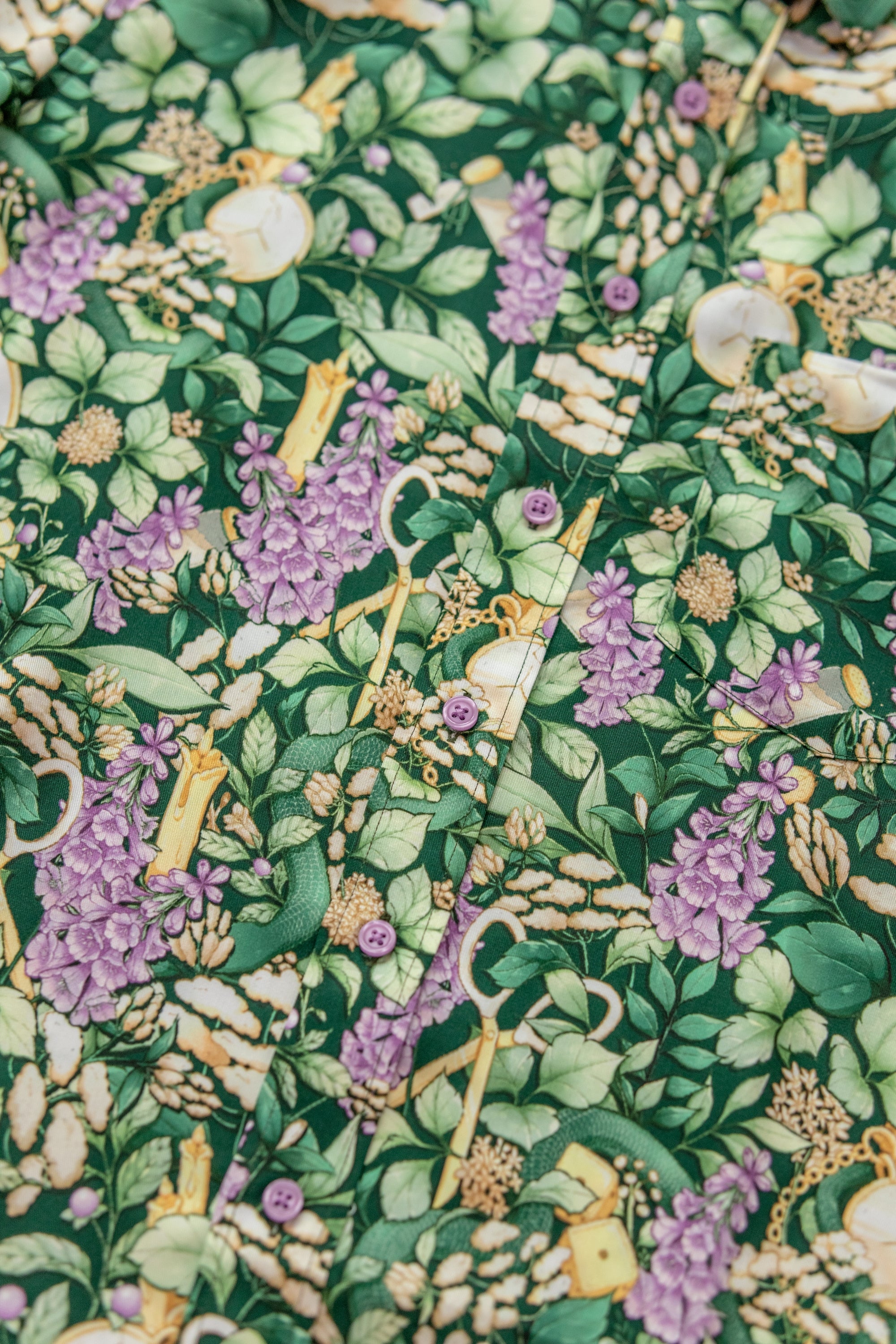 Carmico x TENCEL™
It's been a long time coming but we're happy to announce that we have moved our button-up shirt materials from cotton to TENCEL™. 🥳 The first shirt to use TENCEL is Urban Legends' very own, Superstition | Button-Up Shirt.
If you've been with us for a while, you may remember the first time we mentioned, "TENCEL Carmico is on the horizon." It's hard to believe it's been 2 years since we updated our info page, but the second mouse gets the cheese, right?
"I liked the cotton shirts 🥺"
We did too! But we're so happy with the look and feel of TENCEL™; we know you'll love it too!
Some justification is in order because who even likes change?
In an effort to reduce our footprint, we're working on sourcing the best materials and manufacturing processes. We started this effort with our Vintage-Inspired Ringer Tees; made with 100% GOTS-certified cotton and one of our favourite items! The problem is that our main supplier for GOTS-certified cotton has been struggling to stay on track with their timelines and estimates. So much so that we had to cut new ringer tee designs out of Urban Legends.
Cotton is by no means a bad fabric when the appropriate steps are taken to maintain a responsible life cycle. The main reason we made the switch to TENCEL is that TENCEL is more accessible for small-batch production than certified organic cotton. It behaves very similarly to cotton with some of its properties being even more desirable than cotton.
Here's how TENCEL™ compares to cotton:
| | Tencel | Cotton |
| --- | --- | --- |
| Shrinkage? | 🥇 | 🥈 |
| Wrinkly? | 🥇 | 🥈 |
| Moisture-wicking? | 🥇 | 🥈 |
| Breathable? | 🤝 | 🤝 |
| Comfortable to Wear? | 🤝 | 🤝 |
| Soft? | 🤝 | 🤝 |
| Colorfast? | 🤝 | 🤝 |
| Strong? | 🤝 | 🤝 |
| Hypoallergenic? | 🥈 | 🥇 |
| Biodegradable? | 🤝 | 🤝 |
| Recyclable? | 🥇 | 🥈 |
TENCEL, while still prone to wrinkles, is more wrinkle-resistant than cotton. TENCEL is made of nanofibrils and is incredibly flexible which makes it drape more and gives it a flowy, airy feel much like silk. It's also slightly more breathable than cotton while being just as heat-resistant and moisture-wicking. Despite behaving much like synthetic fibres, TENCEL doesn't melt at high heat.
Compromises
Lenzing has pioneered an almost completely green manufacturing process for TENCEL fabrics. Obviously, avoiding consumerism is better for the environment than anything else, but you're here at Carmico because you need clothes and you want clothes that help you tell a story. It's okay to consume a little here and there and as fellow earthly stewards, we want to make sure we make as little impact as possible while also being an outlet for mindful self-expression.
Maybe the best thing about TENCEL is that it's made by one company. It's not a monopoly—TENCEL is Lenzing's brand name for its lyocell fabrics—but because it produces the majority of the world's lyocell textiles and anything TENCEL branded comes directly from their manufacturing facilities, the entire manufacturing process is fully environmentally and ethically audited.
Our decision to move to TENCEL is a step in the right direction for Carmico to boast sustainable fabrics. Usually when doing research for these kinds of things, there's never a clear-cut or one-size-fits-all approach. You start with "best X" or "top Y" and go from there. Annoyingly (because nothing is ever easy), "best X" and "top Y" is situational and compromises must be made for it to make sense. That's really not the case with TENCEL. All of the research leads back to: TENCEL is one of the best options in the industry as of right now. We've looked for the compromises, the buts, the what-ifs. With TENCEL, there really aren't many and they're almost always worth making compromises for considering all of the benefits.
The main compromise we're making by moving to TENCEL is that cotton is hypoallergenic and TENCEL isn't. TENCEL is still good for those with skin sensitivities, but we are aware that a few of you with extreme sensitivities may not be able to wear our button-up shirts. We will continue to make products that are made of cotton and will do our best to find the best option for everyone. It's not the end for hypoallergenic button-ups, it's just farewell for now.
Don't believe us?
One of the leading brands in sustainability—recognized by all of the major environmentalist outlets as a thought-leader in the fashion and apparel industry—is Patagonia.
Patagonia proudly uses (and plans to continue to use) TENCEL as a staple fabric for its products. Check out Patagonia's statements on TENCEL and how they plan to incorporate TENCEL in their supply chain in the future.
Lenzing is fully transparent so for those who love data and want a long and dry, yet very informative read, you can read the entire sustainability report including past reports.
For more information on TENCEL fabrics and the parent company, Lenzing, head to https://www.tencel.com/general or https://www.lenzing.com/.