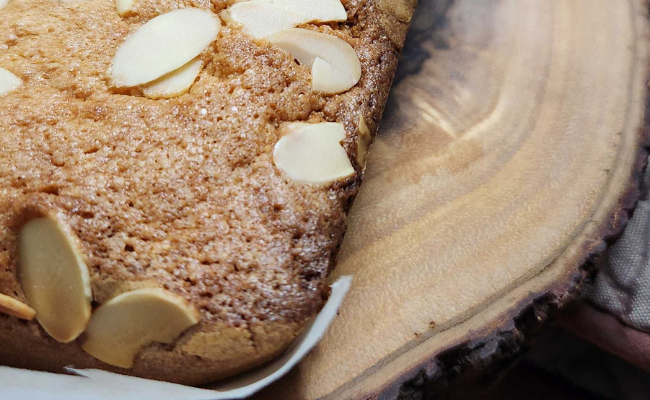 Selina's Fave Frangipane Blondies
Frangipane blondies may sound fancy, but it really is just the filling of almond croissants slapped on top of a blondie (which is a vanilla brownie). It's fudgy and tender with a slight crunch from the almonds on top. the texture is perfect and I have to physically hold myself back from making them every week (since we finish the whole tray in less than 24 hours…oops!).
Ingredients (frangipane):
✿ 1/4 cup unsalted butter, softened
✿ 1/3 cup white sugar
✿ 1 egg
✿ 1/4 tsp. vanilla extract
✿ 1/4 tsp. almond extract
✿ 2/3 cup almond flour (must be almond flour!)
✿ Pinch of kosher or sea salt


Ingredients (blondies):
✿ 2/3 cup unsalted butter, melted and cooled
✿ 1 1/4 cups brown sugar
✿ 1 egg and 1 egg yolk
✿ 1 1/2 TBS. vanilla extract
✿ 1/4 tsp. almond extract
✿ 1/2 tsp. salt
✿ 1/4 tsp. baking powder
✿ 1 1/4 cup (150 g) all-purpose flour (if gluten free, sub a gf flour that has xanthan gum in it!)
✿ 1/4 cup (25 g) almond flour
✿ 1/4 cup sliced almonds (to top)
Instructions:
✿ Preheat the oven to 350°F.
✿ First, make the frangipane. Add the softened butter and sugar together in a medium bowl. Cream together with a whisk until it's pale and fluffy. Add the egg, vanilla extract and almond extract and mix. Add the almond flour and salt and stir to bring together into a paste. Set aside for later.
✿ For the blondie dough; In a large, separate bowl, add the brown sugar and melted butter and whisk until they're fully combined, even whipped for a better texture at the end. Whisk in the egg and egg yolk, vanilla extract, almond extract, baking powder and salt. Fold in the flour and almond flour until the batter, If you have a stand mixer, I usually swap to the paddle attachment here. Make sure to scrape the sides and bottom of the bowl so no dry ingredients are left out.
✿ Line an 8×8 baking tray with parchment paper (i use butter to stick it down so it doesn't slide around). Spread the blondie batter into an even layer on the bottom. Spread the frangipane in an even layer on top. Using a butter knife, run four lines in one direction, rotate the pan and run four lines in the other direction so you get a grid pattern. Bring up a little batter as you go to slightly combine the layers. Sprinkle sliced almonds on top if you're using them.
✿ Bake for 35-40 minutes until the edges are brown and caramelized and the top is slightly browned. The top may should have some browned spots, but not be completely dark.
✿ Let cool and slice!