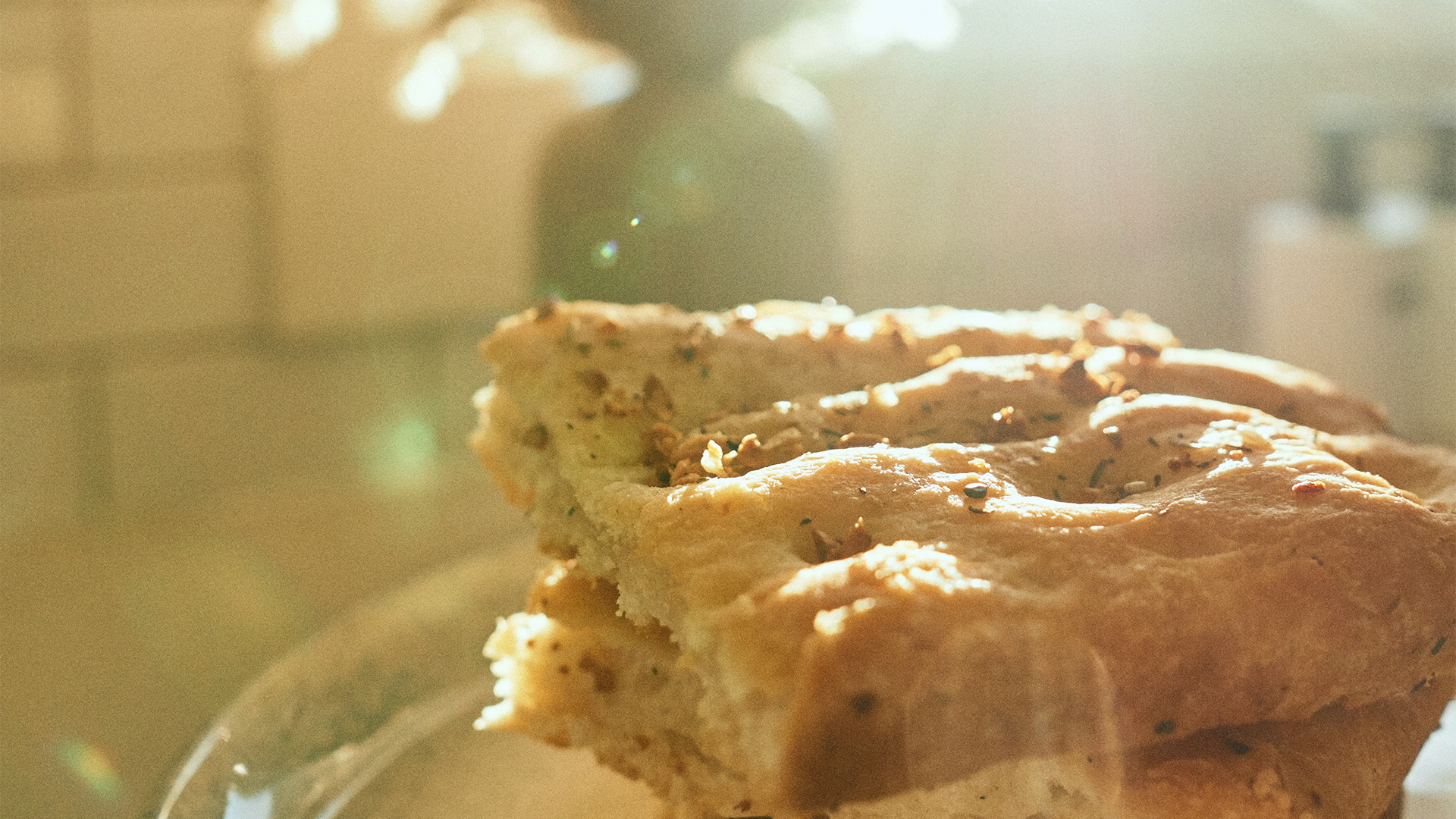 Selina's Fantastic Focaccia Recipe
Fall time means cozy eats and what's better than some homemade focaccia bread? This is Selina's signature focaccia and we hope you enjoy it as much as we do!
Ingredients:
✿ 1 Package Active Dry Yeast (2 + 1/4 Teaspoons)
✿ 6 Cups All Purpose Flour
✿ 2 TBSP Kosher Salt
✿ 1/2 Cup Extra Virgin Olive Oil + 1/4 Cup for topping and for oiling hands
✿ 1 teaspoon Honey or Sugar (to feed the yeast)
✿ Garlic Cloves, Sliced or crushed (measure with your heart)
✿ Rosemary, roughly chopped
Instructions:
✿ Bloom the yeast - pour the package of yeast into your mixing bowl with 1/2 cup of warm (not hot) water and your sugar of choice. Quickly whisk and allow to foam for 5 minutes.
✿ While yeast is blooming - in a small sauce pan add your 1/2 cup of Olive Oil with some of the rosemary and garlic. Allow it to cook down until the yeast mixture has foamed. (Don't put a cover on your pan with oil in it, it will start a fire!)
✿ Add 2.5 Cups of room temperature water to the yeast mixture.
✿ Add all flour in 1 cup batches, mixing in between batches until you reach 6 cups.
✿ Add salt and Garlic/Rosemary infused oil into the dough.
✿ Once the dough has come together, knead for 5 minutes before allowing to rest for 1 - 1.5 Hours. The dough will be quite sticky, do not add any more flour! Instead, lift the sides of the dough away from the bowl and toward the center as you add some unseasoned olive oil to coat the bowl and dough. It should double in size in this time.
✿ Once risen, lift and stretch the dough out of the bowl and into a baking tray, making sure to pour the oil that was on the dough into the bottom of the tray. Use your fingers to stretch the dough out.
✿ If it won't stretch any further, let rest under cling wrap for 10-15 minutes to let the dough relax before stretching again until the dough reaches the edges of the tray.
✿ Allow to rest once more for 10-15 minutes before dimpling the dough with your fingers (pressing them in o make little pockets) and drizzling with more olive oil and the rest of the cooked garlic and Foccacia.
✿ Cook at 450 for 20-25 minutes until golden brown and crispy!