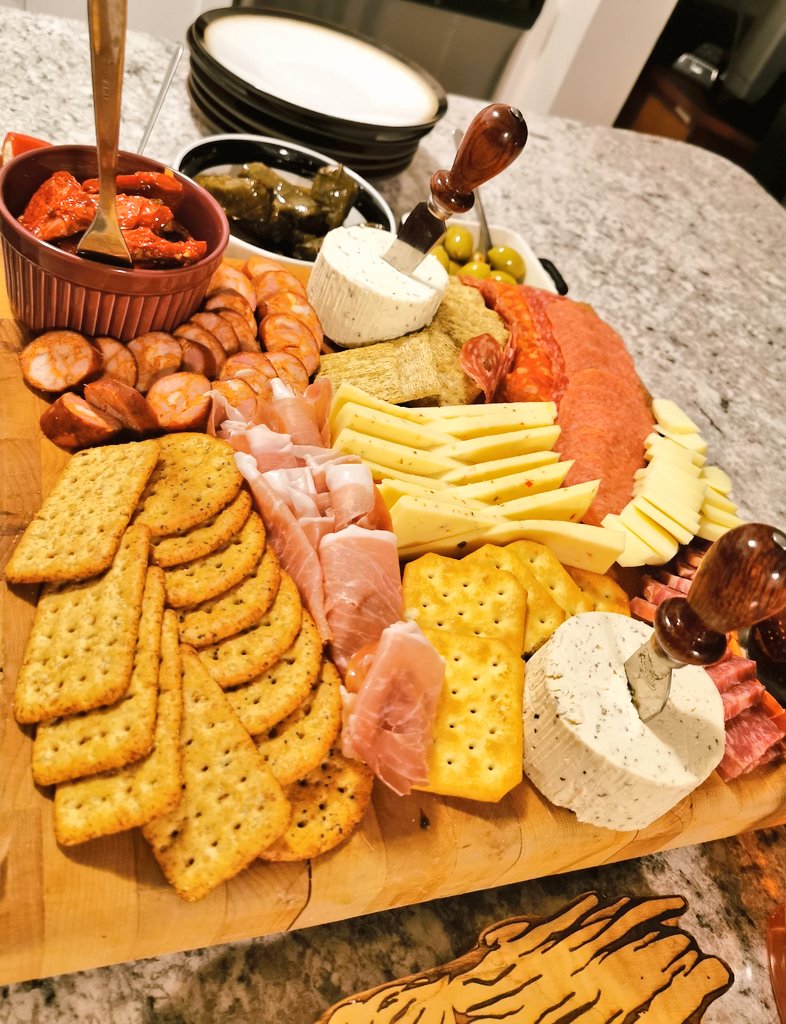 Selina's Guide to Building A Charcuterie Board
Hi friends! Welcome to the promised part 2 of the Summer Picnic recipe, where I'm gonna talk all about my beloved pal, the charcuterie board. It's not just slapping cold cuts and slabs of cheese on a plate and calling it a day, it's an art form of flavour profiling and arrangements that's much easier to get right then it seems.
I find that a great charcuterie board, big or small, has these 5 key components:
✿ Meats, duh, but it's ideal to have more than one of the same kind of cured meat. safe bets are a Prosciutto, a Salami or Soppressata, and some other fun wildcard. For wildcard meats, I love a good Capocollo or Smoked Pork Loin.
✿ Cheeses, double duh, but let's get a little more creative while not totally breaking the bank (though, charcuterie boards aren't the cheapest thing to make, they don't have to cost your month's rent). The one hard, one soft, one special rule is pretty easy to follow, my go-to cheeses with this rule is a smoked gouda, a fun goat cheese and brie. Unless you're also doing a baked brie, which in my opinion, is the best way to enjoy brie.
Fool-Proof Baked Brie
Ingredients:
✿ Brie (full circle not a slice!)
✿ A sweet spread of your choice (Honey, Fig Jam, Orange Marmalade etc)
✿ A nut to compliment the spread (Walnut, pecan etc, My favourite combo is Fig Jam and Pistachios)
✿ Optional: any other topping you'd like, if you eat meat, some cooked bacon on top is always a winner.
✿ Bread to dip.
Instructions:
✿ Place your brie into an oven-safe dish and pierce one small hole in the center (so it doesn't burst!).
✿ Bake in a preheated oven at 350 F for 10-15 minutes, checking on it at every 5 minutes until the top has some give.
✿ Top immediately with your chosen toppings and serve with your choice of bread or cracker! If you're extra like me, you probably skipped the premade stuff and made some focaccia.
✿ The third component, of course, is crackers. What's an adult lunchable without crackers? It's pretty easy here, as I usually like my boards to come in 3s, I'd have 3 types of crackers. A plain cracker, one with nuts and/or fruit in it and a seasoned one, rosemary is always a good take for this one!
So, we have the obvious contenders, but I did say 5 components, not 3. The next two are spreads and snacks. Sure, meat, cheese and crackers are great, but throw a spread in there and you're REAL fancy now. Easy go-to's for me are a fig jam, pesto or, a personal favourite, is a turkish non-spicy red pepper spread that can be easily found in your normal grocery store, Ajvar! And for snacks, well, we need palette cleansers! Olives, sundried tomatoes and some fruit like grapes or citrus are always hits.
So, we have the pieces, but we cant just throw it on a tray and call it a day! Make sure you pre-cut some of the cheeses, especially the hard cheeses, since folks won't dig into it themselves. Roll or fold the meats in a fun way and fan them out, maybe wrap a stack of crackers in a fun way around the container of fig jam!
The design possibilities are endless, get your hands messy and make something pretty before your guests destroy it in 2.5 seconds.