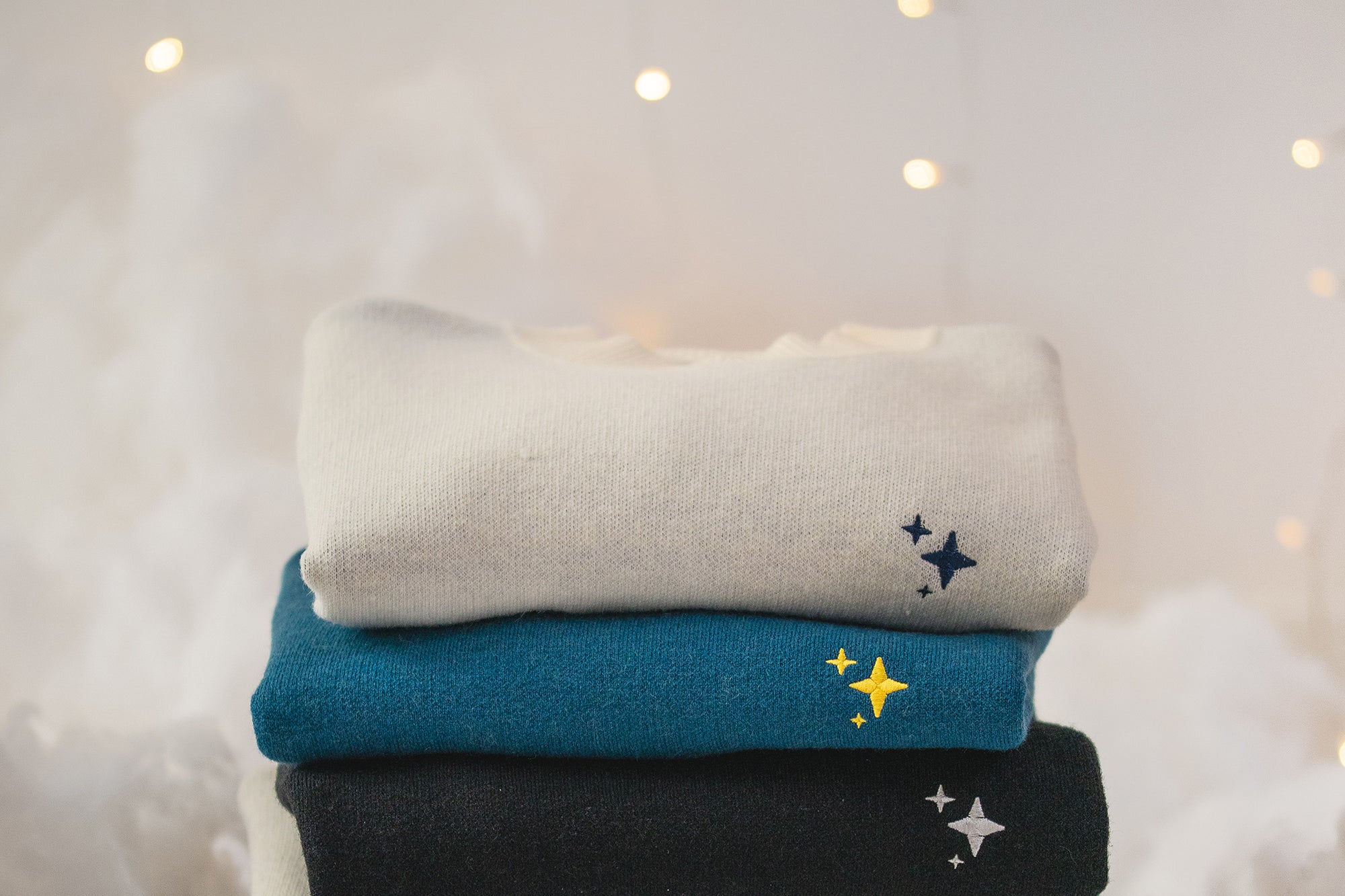 Stargazer Sweater Preorder Round 2 (Plus Tulip Mini Cardigans!)
Hey everyone!
The response to the Stargazer Sweater has been nothing short of stellar. We can't thank you enough for the overwhelming response and the support you give us to keep making cool new things.
All things considered, it made the most sense for us to do a second round of pre-orders so that nobody misses out. This is an unlimited stock pre-order so you can buy as many as you like!
We have some info to share regarding the second round of preorders.
---
TL;DR
A pre-order is defined as:
"Order (an item of merchandise) before it is available, with the understanding that it will be shipped later." —Oxford Languages
Stargazer Sweater Upgrade

Supernova

Now more white, with less blue showing through the top layer

All styles are softer due to updated knitting pattern

Modifying orders

Any changes you want to make to your order must happen before the pre-order ends on July 26th

Pre-orders are non-refundable

Exchanges will be available while quantities last

Shipping

US and Canada - $15CAD | Free over $150CAD

UK and EU - $35CAD | Free over $300CAD

Everywhere else - $50 | Free over $300CAD

Delivery

Estimated to be shipped in January 2023, with delivery for some orders in February

Please note:

this is not a guaranteed date and delays may push fulfillment later than expected

your pre-order will not arrive in time for Christmas

Status updates to be issued at each major production and shipping milestone
---
Product Info
Super Nova - Icy white knit with woven, navy blue chenille
Blue Moon - Yale blue knit with woven, yellow chenille
Deep Space - True black knit with woven, white chenille
Puff sleeve and mock neck
Modal + Synthetic Blend
Unisex Fit - roll the sleeve to make it less puffy or leave it down for the full poof!
PLEASE NOTE: The starry embroidery on the sleeves feel noticeable while worn. With washes it may soften but please keep this in mind for those with sensitivities.
Stargazer Sweater Upgrade
Stargazer Sweaters are getting an upgrade! The manufacturing process for our Stargazer sweaters requires the sweater to be made out of two different colored yarns woven together so that the bottom colour can be pulled through the top layer to form the swirling chenille pattern. Because the Supernova variant has a light exterior and a dark interior, the dark interior made the sweater look a little blue in the previous versions of the Supernova variant.
Our manufacturer changed the process so that the white is more white and less blue. A happy accident is that the sweaters are actually much softer than the previous versions because of the updated knit pattern. An added bonus is that the embroidery is much less noticeable than before.
We made the change for each colour so they all look and feel better than ever. It was a win-win!
Preorder Info
As with all pre-orders, you are buying a product that does not exist yet. The money you give us funds the production of the sweaters, so—naturally—you won't get the sweaters until they have been manufactured, shipped to our warehouse, and then shipped to your address. This process takes months and is subject to delays, but the benefits of the pre-order outweigh the detriments of a long wait time.
Delivery Date
The nature of pre-orders and the uncertainty of the supply chain makes any estimated delivery date our best guess. We have information from our manufacturers that we've used to estimate a delivery date that is as accurate as possible.
Based on our last pre-order which was shipped within 2 weeks of our estimate, we're confident that January 2023 will be when our warehouse team begins fulfilling orders. This means pre-orders will not arrive in time for Christmas. Please consider this when placing your order.
If you move before your order is shipped, please reach out to us so we can ensure your order reaches your new address safely.
Modifying Orders
We get it, sometimes you make a mistake or something comes up and you need to cancel your order. We will always accommodate any request made before the pre-order period ends.
Changes made to orders after the pre-order ends are made on a case by case basis. As a general rule, you can't cancel or change your order details once the pre-order is complete. The only exception to this is an address change.
The reason we don't allow changes or cancellations is because we purchase an amount of product based on the amount ordered during the pre-order. If you change your style or size, we will have more than intended of one variant, and less of the other. If these changes are made at scale, we end up running out of inventory in those variants. This is hard to track because we don't actually have the inventory at our warehouse, making any of these changes prone to errors.
These are inventory related errors which means some orders would be short the necessary product and we'd have to cancel part or all of the order that we didn't have sufficient inventory for. This is incredibly disappointing for customers that have waited for months to get a product they're excited for, so we take action to avoid the errors at all costs.
Update Timeline
We love transparency and we want to keep you informed! Below are the different stages that we will be posting updates for with a little bit of context for each.
Pre-order Begins
This happens today! We will post an announcement on our socials once the pre-order is live. Don't rush, though! It's an unlimited stock pre-order so you have a whole week before you need to make your decision without worrying about losing out.
Pre-order Ends
We're planning for the pre-order to end on July 26th but we may extend the end date to August 2nd. We will post an update on the 26th regardless of end date changes, but if we extend the pre-order we will include the info in that post.
Manufacturing Complete
Once the pre-order ends we submit our order to our manufacturer. Depending on the volume of orders this is expected to take 1-2 months. If for some reason there are more orders than the first round of pre-orders, the manufacturing process could take longer than expected. If this is the case we will post an announcement with an updated estimate.
Bulk Order Received
Once manufacturing is complete, all products are ready to be shipped to our warehouse. We will have an update for you with a new shipping time estimate. We ship via ocean to keep emissions and costs down so this typically takes two months.
September through December is the busiest time for many of the industries involved in our supply chain. Delays are bound to happen but we will let you know of each one as they come up so you know what to expect.
Once the ship lands at the port, it should only take a few weeks for the bulk order to make the trip from the port on the Pacific coast to our warehouse in Ontario.
Fulfillment Begins
Once the warehouse has the bulk order they will need about a week to sort and inspect the quality of the products. Once all of the product has been sorted, fulfillment will begin and depending on the volume of orders should take somewhere between one and two weeks.
Fulfillment Ends
Fulfillment should be complete within 3 weeks of the warehouse team receiving the bulk order. At this time, once the last order has been shipped, we will make an announcement to let everybody know that their sweater should be on their way to them if not delivered already. Anyone who has not received a shipping confirmation email should reach out to us at this time so that we can investigate any issues with your order. We will remind you in the announcement we make for the end of fulfillment.
Final Words
Thanks again for all of your support. We really couldn't do it without you. 🥰
If you haven't already, please subscribe to our newsletter and follow us on Instagram and Twitter. We post daily on our socials but will only send important updates via email.
-The CarmiCrew